In this issue: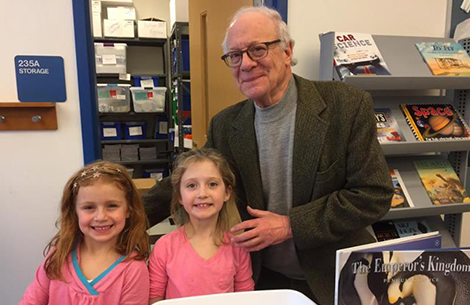 NEF Supporter Spotlight: Mike Strem
Local entrepreneur Mike Strem, the founder of Strem Chemicals, is a long-time supporter of the Newburyport Education Foundation, dating back to the beginnings of the NEF over 15 years ago. Through Strem Chemicals, Mike has had a positive impact on generations of young scientists with projects focused on the Rupert A. Nock Middle School Science Labs and Robotics Programs.  Mike's most recent contribution to the NEF is funding the Strem Chemicals Inc. STEM Lab at the Bresnahan School, one of the first of its kind for elementary school students.
As a STEM entrepreneur himself, Mike believes in ensuring that children are engaged in STEM learning from an early age. "As a trained scientist I'm interested in promoting science. These kids are like sponges, you can throw science at them and they just soak it up," he says. "And the lab is just incredible, it's a great space for hands-on learning."
Mike Strem and Strem Chemicals are classic entrepreneurial success stories with a STEM twist. Born and raised in Pittsburgh, Strem received an advanced degree in chemistry. In the course of his graduate studies, he encountered chemical compounds that were not available commercially and realized he had a business opportunity in his hands.
He started his business in collaboration with a corporation based in Danvers, MA, that had all of the specific equipment necessary to create his products. A decade later, when it was time to strike out on his own, Strem came across space in the Newburyport industrial park. That was in 1978. Today Strem Chemicals is an international company with 70 employees.
Mike has been a supporter of public education since the start of the Newburyport Education Business Coalition, a group of business owners based in the industrial park who got together to help support Newburyport's public Schools.  As years went by and the Newburyport Education Foundation was created, the two organizations merged to best address the needs of the Newburyport Public Schools. The coalition still exists today as the NEF Business Coalition Committee, and Mike Strem is still an active supporter of a wide range of activities that help advance public education in Newburyport.
The NEF is grateful to Mike Strem and other local entrepreneurs like him!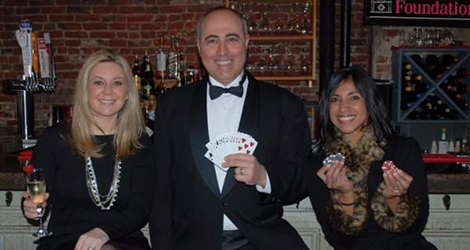 Go ALL IN for Newburyport Students at Monte Carlo Night!
The NEF's annual Texas Hold'Em Tournament has been expanded into Monte Carlo Night, and will feature an array of casino games in addition to the ever-popular poker tournament. Whether you are hitting the Blackjack tables, rolling the dice at Craps, spinning the wheel at Roulette or going ALL IN for the Texas Hold'em Tournament, you do not want to miss this event!
Monte Carlo night is Saturday, April 1st from 7pm-11pm at the Newburyport Senior Community Center. The evening will feature a variety of table games and a poker tournament, both with professional dealers. Additionally, new players are welcomed and encouraged to learn how to play games like Blackjack, Craps, and Roulette with professional dealers.
All tickets will include access to the event, hors d'oeuvres and cash bar. Purchase your tickets now!
Texas Hold'em Tournament Ticket ($125) – includes entrance into the Texas Hold'em Tournament and casino chips for table games.  Only 100 seats available!
Casino Games Ticket ($75) – includes casino chips for table games ONLY (no Texas Hold'em).
Everyone will have a chance to win great prizes, regardless of what you play and how well you play.  Prizes will be awarded to the top 5 Texas Hold'em Tournament finishers, while casino game chips will be exchanged for raffle tickets that can be used to win fantastic items.
Cocktail Attire is encouraged to embody the fun, flirty, and elegant essence of Monte Carlo.  A special prize will also be given out for Best Dressed Couple.
If you are interested in sponsoring this event, view sponsorship opportunities here.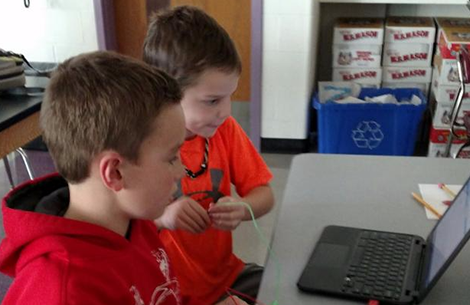 Explore STEM @ the Molin
What's a Makey Makey kit? Just ask fourth and fifth graders at the Molin School, who are engaged in hands-on STEM learning using Makey Makey kits. These kits–created by students at MIT-are electronic invention tools that allow users to turn everyday objects into Internet-connected touchpads. In the STEM lab at the Molin, students are using Makey Makeys to explore the fundamentals of open and closed circuitry, and by extension, computer programming.
Students are immersed in a full range of hands-on STEM learning at all levels in Newburyport Public Schools as part of the District-Wide STEM initiative, which recognizes the importance of exposure to STEM–science, technology, engineering, and math-for preparing students for life in the 21st Century and beyond. The NEF has supported the STEM initiative through the donation of Makey Makey kits and others tools for exploration, such as geoboards, which help students gain hands-on exposure to geometry.
"Students love using these new technologies. They are working with things that spark their creativity and interest, and they're solving problems with engineering," says STEM teacher Kristin Daigle.
In addition to these innovative learning tools, the NEF funded the creation of the Strem STEM Lab, a flexible lab space with multiple learning modules for different grades and STEM themes at the Bresnahan Elementary School. In this learning hub, modules will support experimentation and labs, technology and robotics, engineering "maker" centers for building and design, and more. The lab was made possible by the generous support from Newburyport business Strem Chemicals, which has partnered with the NEF and Newburyport Public Schools to help cultivate the next generation of creative and flexible "thinkers and doers" in Newburyport.
The NEF is supporting the completion of the Strem STEM Lab at the Bresnahan School as well as increasing accessibility to STEM environments and experiences for all students across the district. Join us as we spark learning and achievement by making a donation to the Newburyport Education Foundation today.

Save the Date for these Upcoming Events:
NEF Open – Monday, May 22nd @ Wentworth By The Sea Country Club